Building concrete forms involves choosing the materials for your cement forms carefully. Cast concrete transfers detail very well. That means that you should not use a textured plywood if you want a smooth looking casting. The example below illustrates the point to perfection. Anchoring cement was cast inside of plastic bottles. The quality of the casting is off the charts. The end result is as smooth as the bottle it was cast into. Another consideration is how water tight the form is. The example below illustrates the point again. The bottles are obviously 100% waterproof. The casting shows it. If there were a leak we would see where the water ran out of the form leaving a dry vein like escape route.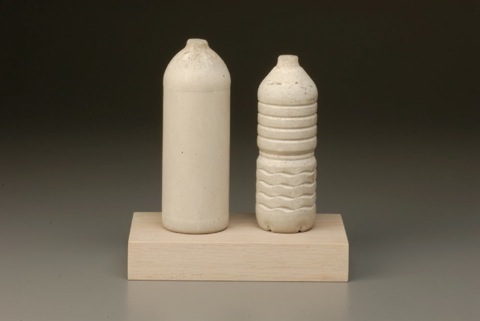 Three materials come to mind for making cement molds that result in smooth castings NOTE: This also applies to concrete countertop forms. AC plywood is easy to work with and can be sanded with a random orbit sander to smooth it out. A quick pass with 150 grit disk will do. It is necessary to finish the plywood concrete forms so they will hold up to the moisture in the mix. A blend of mineral spirits and oil bases high gloss polyurethane is a perfect choice. The mixture penetrates the fibers and greatly improves the ability of the wood to stand up to the water in the concrete without raising the grain. Wax and or oil will serve as the release. The great advantage of the AC plywood system is that it is cheap. Red Board is expensive. Around $200 for a 4 x 8 foot sheet. Ouch. The great advantage is no further coating is required. Build the form hit it with a release and cast away. The final material pictured below is a PVC board. It is possible the best of the lot if you need to cast multiples. Any of the other materials are good for around 10-20 pours. The PVC board may never wear out and can be glued and patched with PVC glue.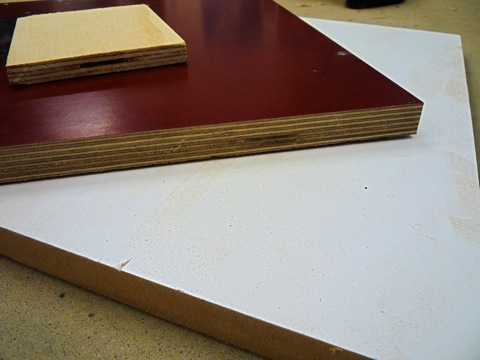 Regardless of the material you choose construct the form carefully. The tighter the craftsmanship the better off you are. Use gorilla glue on permanent joints and use latex caulk to seal the removable joints.