Filling the mold is an art in and of itself. You will develop a workflow that produces the results that you need. Try these steps and see how they work for you.
Begin with a stiff mix and transfer small amounts to a bucket or scoop right from the mixer if the form is close by. Use a small shovel or a masonry trowel to sort of throw the mix into the form. The energy that you impart tot he flying mix should be controlled yet forceful enough to settle into the nooks of the form without trapping air.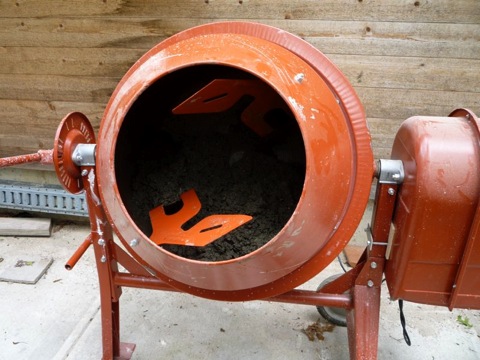 Stop as the form reaches about six inches of material and disturb the form. A shot filled mallet is a good tool to have on hand. Regardless you should push the form off its stable base and let it thump back to level. This helps setle the mix. You will see the transition from lumpy pile to level fill. Then add more material and repeat until the form is full.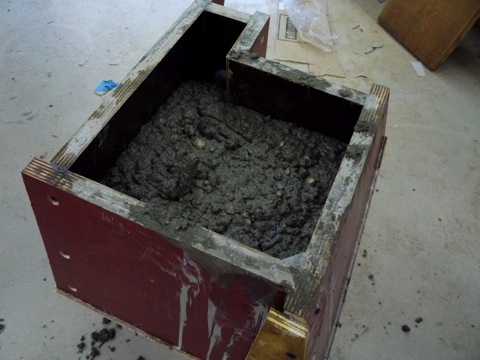 Once the form is at capacity it is hammer time again. It is now too full to be pushed and thumped like you were doing before. There are a number of different ways to get the remaining air out. Some people use a table with an inline air sander mounted to it. This 'vibrating' table does a lot of the work. Other people use some sort of vibrating wand to slip into the concrete and vibrate the air out from the inside. A simple shop built version is pictured below made from an old 1/4 sheet sander.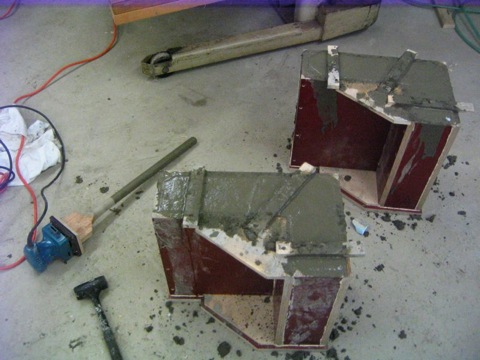 Be sure to over fill the form at this point. Concrete does shrink as it cures. Return a few hours later to cut the lump off with a trowel and smooth it out and to push in your drywall inserts for the non marking foot. The casting should stay in the form for about 3 days. It can then be taken out of the form and allowed to cure another few days before going into service.